About Me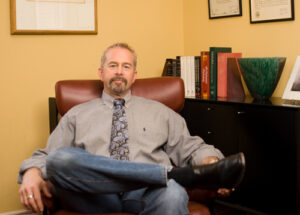 A native of St. Louis, MO, I have been a therapist serving the Washington, D.C., community for over 30 years. In addition to my general, private practice for adults and couples, I am the co-founder and co-director of the Affirmative Psychotherapy Group. Matthew Weissman, Ph.D., and I established this group in 1992 to support gay and lesbian clients in both individual and group psychotherapy settings.
A past president of the American Academy of Psychotherapists, I am committed to mentoring, training and supporting fellow psychotherapists. I lead numerous process-oriented workshops, where participants develop the interpersonal, inter-relational and experiential skills they need to effectively run group therapy sessions with their own clients. More than teach, I learn from my fellow therapists. Staying on top of state-of-the-art developments in my field, I continuously develop new skills.
I've served as staff psychologist at Washington, D.C.'s Saint Elizabeth's Hospital and clinical supervisor at Whitman Walker Clinic. I have been a member of the faculty at George Washington School of Medicine and Health Sciences since 2017 and a member of the American Psychological Association since 1990.
I hold a doctorate in clinical psychology from Yeshiva University at the Albert Einstein College of Medicine; a B.A. in psychology from Columbia University; and a B.A. in philosophy from the Jewish Theological Seminary.
Washingtonian Magazine
I am proud that I have been selected by my colleagues as one of Washington's top psychotherapists as reported in the Washingtonian magazine. In July 2009, I was selected for my work with racial and identity issues and in December 2012 for my work with couples.